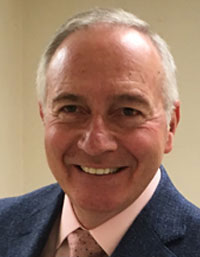 Dr. Thomas A. Montagnese
Dr. Montagnese has been an invited speaker at the American Association of Endodontist annual meetings and at several international dental conferences held abroad. These include the Egyptian Dental Syndicate International Conference, Future University of Egypt International Dental Conference, Mansoura International Dental Congress, and the World Congress on Dental Research held in Dubai. His topics included Sedation in Endodontic/Dental Practice, The Restoration of Endodontically Treated Teeth, and The Diagnosis, Prognosis, and Treatment of Cracked and Fractured Teeth.

Dr. Montagnese was born and raised in Lorain, Ohio. He graduated from Clearview High school in 1966, did his predental studies at the University of Cincinnati from 1966 to 1969, and graduated from The Ohio State University College of Dentistry in 1973.

After graduating from dental school he served with the United States Navy Dental Corps as a Lieutenant at Subic Bay Naval Station, Republic of the Philippines from 1973 to 1975. From 1975 to 1976 he associated with Dr. Irving Gilman, a general dentist in Lorain. From 1976 to 1977 he taught endodontics at Pahlavi University in Shiraz, Iran. In 1978 he started his specialty training in endodontics at The Ohio State University College of Dentistry and received his Certificate in Endodontics and Master of Science degree. His Master's Thesis was published in the Journal of Endodontics.

Dr. Montagnese practiced with an endodontic specialty group from 1980 to 1985 in Rocky River Ohio before starting his own private practice in Lorain in 1985. Dr. Montagnese has been on the faculty of Case Western Reserve University, School of Dental Medicine since 1997. He is currently an Associate Professor with the Graduate Endodontic Program. Dr. Montagnese received his training in intravenous sedation from Miami Valley Hospital in Dayton Ohio in 1997. He is one of the few endodontists in the United States provides moderate sedation to his patients. He holds a permit in Intravenous Conscious Sedation from the Ohio State Dental Board.